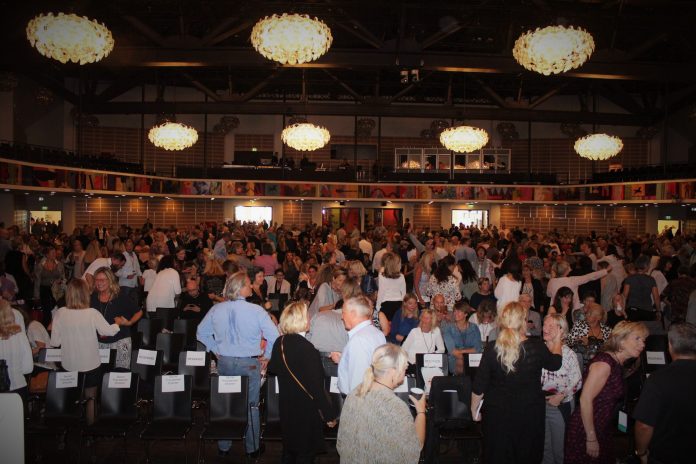 The butterflies in my stomach are getting bigger and bigger the closer we get to September 17th. I feel a bit like a kid looking forward to Christmas Eve. I look forward to it and am super excited! I wonder what the LifeWave Founder and CEO David Schmidt has come up with this time. I received a few teasers about the products ahead of the event. It's about weight loss – but no one knows what the product iss, what it can do and how it works.
And so finally the day that and many of my wonderful LifeWave colleagues and I have been looking forward to with great anticipation for several months. 1,500 people gathered from far and near. Colleagues from many other countries are there as well: The Faroe Islands, Italy, Spain, France and Poland are just some of the countries I encountered – I'm certain that there are more.
Finally it's 09:30: We are finally witnessing what we've all have been looking forward to. The world launch of WinFit – a brand new innovative fat loss concept from LifeWave. The expectations are high.
A changed David Schmidt turns up on stage. Wow, I say to myself. I have attended these annual events in Copenhagen for the last four years. However, I have NEVER seen David Schmidt be so slim and in-shape. David Schmidt says that he has been using the WinFit system since November 2015. What a transformation!
It's a day full of enthusiasm over LifeWave's new WinFit system. David Schmidt really knows how to think outside the box when he wants to solve a problem. Obesity is a growing problem that threatens public health. As David Schmid himself says: "Do the world a favor". With that in mind, he created WinFit. I'm feeling so ready to do my body and myself "a favor".
WinFit ordered at 00:05
WinFit was released on Monday, September 19th at midnight CET. I can't wait to get started so I, of course, set my alarm for 00:01 Sunday night just to order the new WinFit system. It's ordered by 00:05.
I get my WinFit system on Wednesday already, so I've been doing it for a week now. It's absolutely easy to use. I'm so excited to see and feel what it does to my body.
I won't go into much detail about the WinFit product itself right now. I'll put it all out there later when I've tried it out on myself.
Body analysis – and then we're up and running
I did a full-body analyze before I started, so I know exactly how much fat and muscle my body consists of and where it's all located. The body analysis also reveals vital fat in the body. That is, fat around the organs. I'll hold off on telling you more about it right now, so you'll have to wait a little bit longer for that.
WinFit – Shape Your Future. I am highly motivated. Follow me here on the blog if you're curious to know more! Would you like to try it out for yourself? Then get in touch with me and I'll help you start with your body analysis and the WinFit concept overall. Keep in mind: LifeWave don't make any promises they they can't keep. LifeWave offers a 30 day return policy if you're not happy with your results. Piece of cake!
New LifeWave event in Copenhagen in 2017
Oh yeah, by the way: David Schmidt had not one, but two cards up his sleeve! David Schmidt ended the day by inviting us all to next year's world launch of another new LifeWave product. It'll take place on September 30th, 2017, in Copenhagen. Another great piece of news to await. I've put it down in my calendar. Not only that, hut he also unveiled that he's currently faced with the choice between two new potential LifeWave products. David Schmidt himself doesn't yet know which product he'll choose… Exciting, very exciting.
Top image: Steen Leithoff