Now it's time for Christmas, elves, Christmas lights and garlands. It's December and we have planned a bunch of fun and coziness with the family, friends, colleagues at work, in clubs, at schools, institutions and so on.
Coziness means eating and drinking. There will be bowls and platters of food, snacks and Christmas candy on the table: gingerbread nuts, brown cakes, vanilla wreaths, marzipan, candies and chocolates, soft drinks, mulled wine or other alcoholic drinks.
When I'm trying to be healthy, it's unfortunately a pretty sad sight. One ingredient is common in ALL of these snacks and drinks and another in the vast majority. I of course think of SUGAR and FAT. In addition to colorants, flavorings and additives in a steady stream.
Well it's ONLY Christmas once a year! Everyone is of course their right to eat what they want – although I say: No thanks. But I do not say 'no thanks' to the cosiness. I would of course love to be with the beautiful people I know.
5 tips on how to avoid sugar and fat
Here are some suggestions on what you can eat if you want to cut down on sugar and fat. I hope one of them – or a combination of several of them – can help you.
Make a deal with yourself before you get into the Christmas atmosphere that you won't start eating something unhealthy. If you eat something, it should be fruit.
Make a deal with yourself that every time you have a fun event, and you do not eat something, you give yourself a gift – something you have long wanted – eg. a massage or some form of treatment.
Choose a chocolate without milk, soy, gluten and refined sugar, for example. Pana raw chocolate.
You can also take your own homemade thing with, you know what ingredients are in – and it tastes the often better if it is homemade.
You can encourage others in the company to ensure that all produce something that is homemade, or doing it jointly. It is cozy rather than just buying something.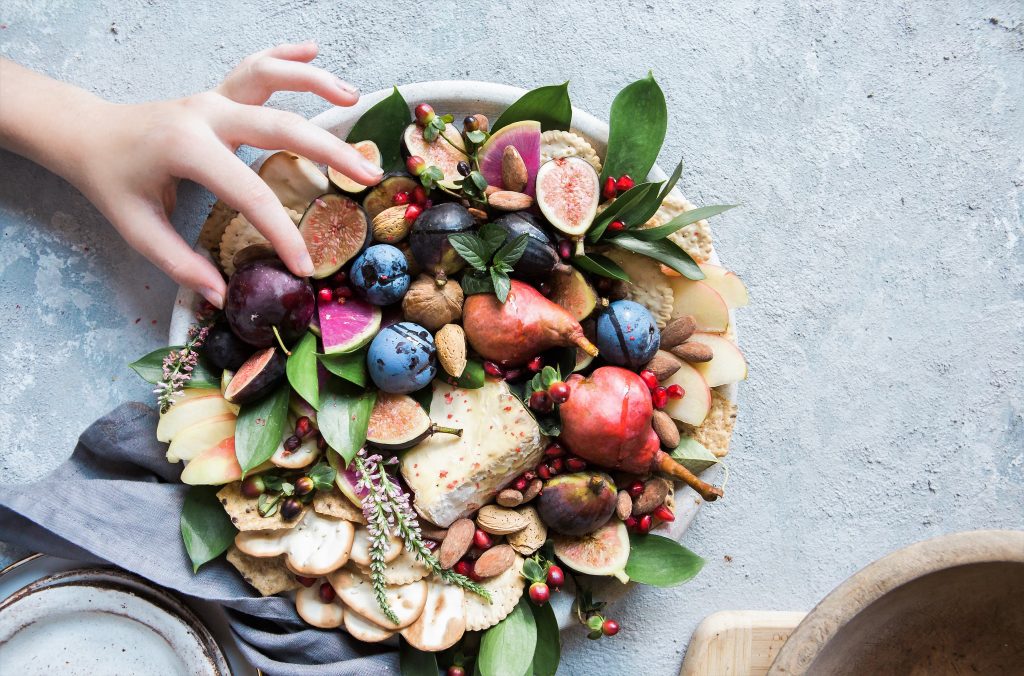 9 easy tips for healthy snacks
What can you even do in your kitchen? It is of course depending on how much time you have, how skilled you are in the kitchen and how much desire you have for it.
A few easy things can be:
Dates, where you take the stone out and comes in an almond, almonds blended where possible. is added orange juice and nougat.
Your own confections, even perhaps homemade marzipan.
Homemade cookies.
Kaki fruit – organic, of course, they are cute and very tasteful.
Other exotic fruit.
Nuts and almonds that have been soaked overnight. It will be the milder and more easily absorbable by.
Special dried fruit, for example blueberry.
A delicious julesmooties: 15 almonds that have been soaked overnight, 1 avocado, 100g. Fresh spinach 1 tsp. cinnamon, 1 tsp. vanilla powder (no sugar), 4 dl. rice or other plant milk. Start by blending almonds and plant milk, and then came the rest. Come possible. more plant milk if you want it thinner.
You can also choose to make your own chai tea that is so tasteful that you do not need to eat crunchy.
Boil ½ l. Of water with 3 bars cinnamon, star anise whole 5, 7 whole cloves, 1 tbsp. cut liquorice, 1 tsp. whole black pepper, 1 tbsp. whole cardamom, 8 whole allspice. Bring to the boil and let it boil for a few minutes. Turn off and add 3 tbsp. Earl Gray tea or other tea you like. Let it soak overnight. The day after you aim it and boil it up with 1 liter of milk plant. You may want. adding a little agave syrup, or another syrup.
Basically made all food and drink from organic ingredients because of health value and tasteful unit.
I hope it can help give you a little more inspiration to do something else in the Christmas month. Please feel free to ask a bunch of questions here on the blog.
Enjoy the December coziness!