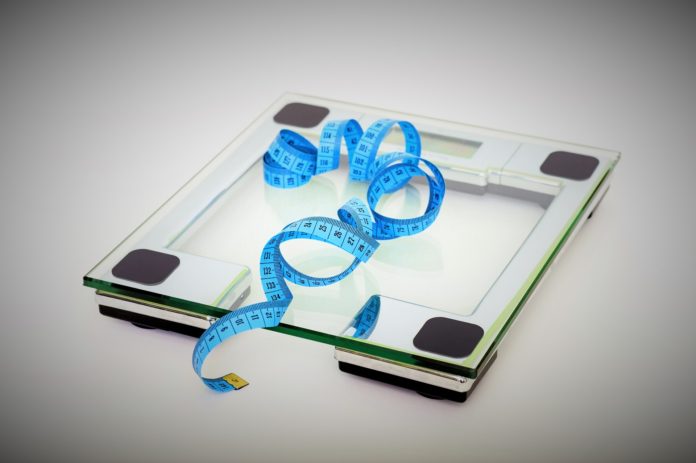 By now I've been working on LifeWave's new fat loss and muscle building concept WinFit for just 20 days. I am strongly impressed: that I can build muscle so easily – and lose fat while I have been allowed to be a "food" is amazing. With that and only 10 minutes of training almost four times a week, I had in no way counted on anything.
I have tried training for a long time before and prepared a diet with lots of protein, where nothing happened. I was still overfed when I measured my fat percentage. It was pretty hard. Now I've finally found something that suits me.
Being sick makes it harder to stay in shape
When I was diagnosed with psoriasis arthritis as a 21 year old, as time passed, I had to accept a life without work, physical exertion and stress of any kind. I knew that I would not have the great opportunities for a more muscular body.
Despite the fact that I'm diagnosing a hospital in 2008, I lost 21 kilos because of a bowel gut, I still had an excessive fat percentage. The fat simply lay around the organs. I was what you call tyndfed. Yes, actually the doctors in the hospital said that there was a lot of fat around my bones that had saved me as it helped keep the hole in the bowel shut.
From not to hot 🙂
When I got out of the hospital, I faced another huge challenge, namely that I would really like to take 'muscle' again. Because the judgment of the Spanish doctors was dietary for the rest of life, combined with the judgment of "my" psoriasis arthritis not to overthrow me physically, the prospect of building muscle was very small. To start taking hormones to help it on my way has always been excluded in my eyes.
Fortunately, LifeWave came into my life. I started eating normally again, but it just made me feel more fat on my body. Train hard I still could not: Overfed and too little muscle mass, the sentence sounded every time I went on the weight.
So to see and see such results in just three weeks with only a total of 110 minutes of training, is something that makes me so happy and gives me a good sense of confidence and the feeling that it can be done. Yes, it is actually very difficult to explain.
Whoa! The scale says the same weight
So then what am I so happy about? Looking at my weight, I weigh the same, 68.5 kg. Just like I did a week before, I started at WinFit.
Let's take a look at the numbers:
Before start
Weight: 68.5 kg
Muscle mass: 31.4 kg
Fat mass: 12.8 kg
Fat percentage 18.7
After 3 weeksWeight: 68.5 kg
Muscle mass: 32.6 kg
Fat mass: 10.9 kg
Fat percentage 16.0
In body tests can be seen here: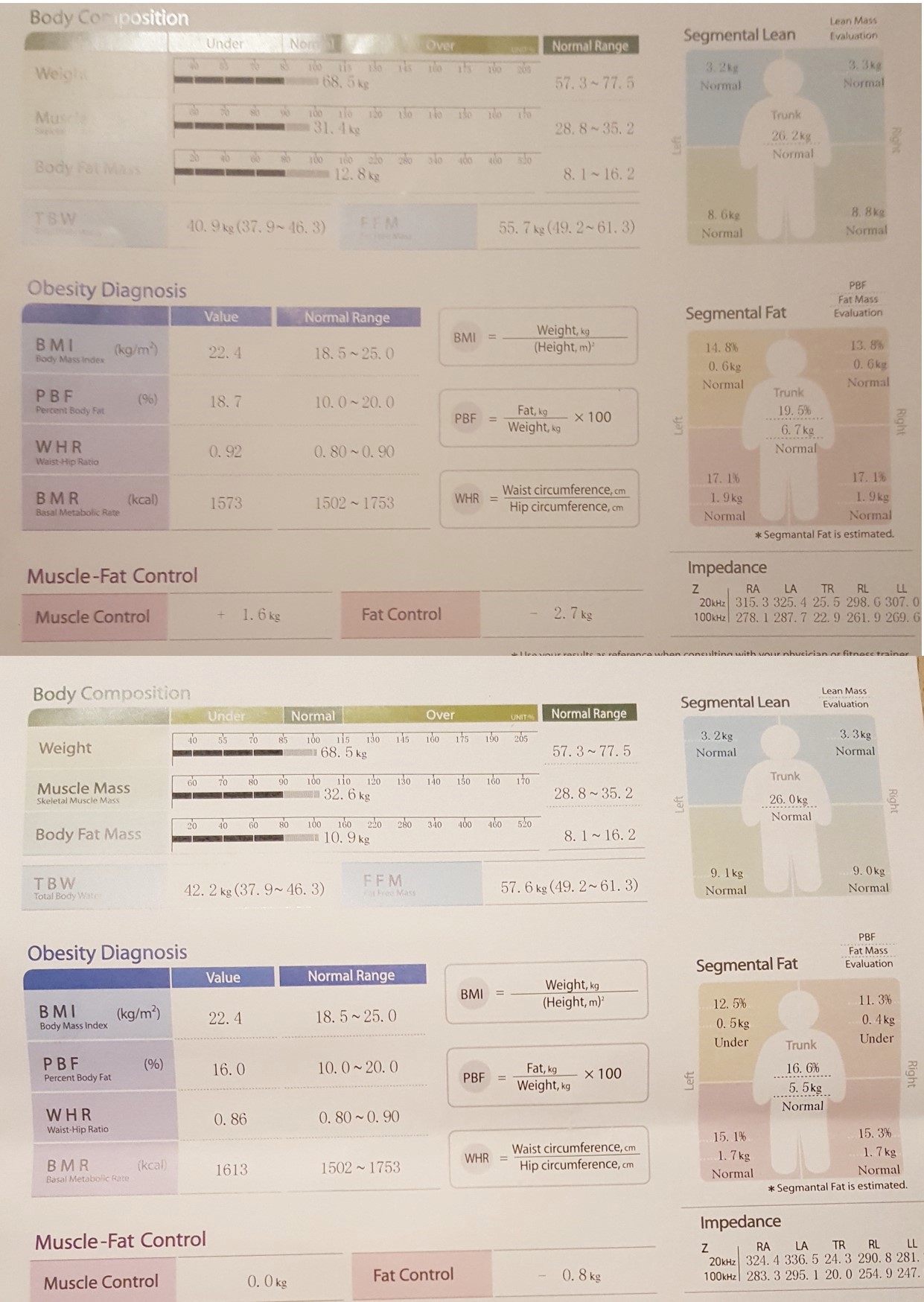 What! I have lost 1.2kg in muscle mass and lost 1.9kg in fat. Yesssss! Now, I understand why bodybuilders are having a hard time holding their arms to their body, because it's a bit difficult to get their arms down after such a test.
All this has happened in just three weeks and with a total of 110 minutes of training. It's unreal. My companion Birger Hejlsborg, a personal trainer and dietician who has helped people lose weight over five years is impressed. He has only seen this one time before, and it was with a person with a fat percentage of 49 percent.
Actually, I took 1.2 kg of muscle in the first week. In week 2, I had a good cold, so for three days I did not get much to eat. I practiced only three times and WinFit ran all over the first day. Therefore, I'm 110 percent sure I would have taken more on muscle if it had not happened. But take it easy. I am highly pleased anyway. I'm looking forward to seeing the results when the 30 days have passed.
Looking at the In body test, I can see that I've lost 1.2kg of fat – just in my stomach region. That's what I went for. Although it can not be seen wildly, it's nice to know that a lot of fat inside the stomach is gone. However, I can feel it when I grab. The fat that is, seems much slimmer, so it's probably the next one who smokes.
Let's take a look at the before and after measurements:
At start
Biceps: 31.7 cm
Thighs: 53.3 cm
Stomach: 92.7 cm
Hips/butt: 90,6 cm
After 3 weeks
Biceps: 33 cm
Thigh: 55.9 cm
Stomach: 92 cm
Hips/butt: 91,2 cm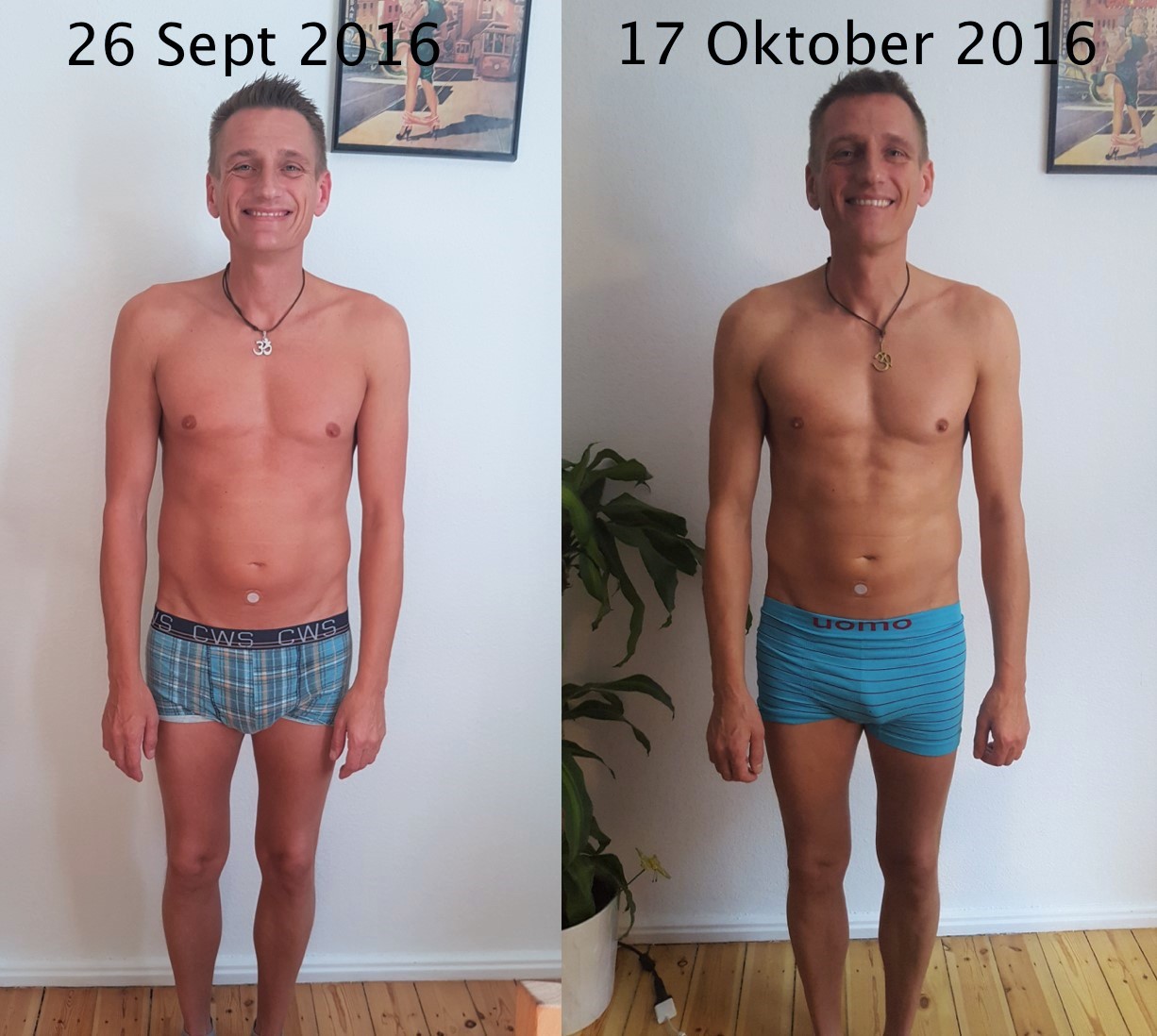 When I on September 26th asked my girlfriend to take a comparison picture of me, I had to strip down. I didn't hesitate to do the same in October either. But the pictures have been taken and I can't re-take them, and I did promise to share the result. And I'm a man of my word!
I especially thought that the round fat lump I have on my stomach is greatly reduced, and my chest and abdominal muscles are more marked, which I also feel very much.
No diet
I have eaten a lot like I usually – just a little more. I thought it would be a problem to eat within a diet window of only eight hours, but it has not been. For good reasons, I can not strip everything up, but to give you an idea of what I eat comes here a bit about a typical day.
Breakfast: When I wake up, I drink a lot of water – just like I usually do. My breakfast I eat at. 12 (some days at 1 o'clock to eat dinner later): green yoghurt with strawberries, blueberries, raspberries, chaos, almonds … just as I did before I started.
Lunch: protein-rich rye bread with tuna, sausage, chicken or vegetarian spreads. I have used mayonnaise, remulade, feta cheese, cucumber, tomato upstairs and salad below.
Dinner: Homemade falafel in whole grain flat bread or pita bread, chicken feta, chicken breast or steak with vegetables or salad, beans or the like. Have had bearnaisesovs several times and even pomfritter … ups … but have always brought vegetables together – for example broccoli, carrots etc. Have also eaten a couple of times eaten burger and pizza, however, in the 8 hour diet window. Of course, it is not recommended to eat healthy calories and carbohydrates. I am very well aware of that.
Snacks: for example banana, apple, organic cold pressed coconut oil, protein shakes, rye bread or the like.
I have only been drinking coffee in the morning before putting the WinFit patch on, since caffeine is consumed before you want optimum results. However, have had a glass of coke occasionally, a glass of wine or (admitted) four glasses a couple of times.
All in all, I have to say that David Schmidt is right when he says: "This is NOT a cure, you should NOT count calories, OR work out several hours a week!"
WinFit: I'm sticking around for another month!
I'm looking forward to the last week with WinFit and will definitely bother for a month, but this time, I will not go up to just training 10 minutes, but nap a little more if that's what I want and physique to .
These 30 days are to see how it goes when you follow the program as well as you can. Then I know what I recommend to others. The first month has also made me sure that you can build a lot more muscle if you train more in the morning – no doubt.
WinFit is a very easy package solution, a NEM lifestyle change – added some amazing products and sound research, which together make up an amazing system. I am a fan.
This is not my last WinFit update here on the blog. You can be sure of that!