LifeWave has done it again. Tuesday, June 6, 2017, the veil was lifted for another unique product from LifeWave. "Nirvana" has seen the light of day. Again, it will be exciting to follow the development of a product launch from LifeWave. "Nirvana" may be the product that manages to break the otherwise sad forecasts for the development of depression.
The statistics are, by the way, not very encouraging. Depression is discussed more frequently and more often in the media. Recently, there was a feature on TV 2 The news that up against every other woman is in the risk group to develop depression: Lack of light, loneliness, lack of energy and rising isolation, where one can not go outside a door is a picture , Which several can not recognize. The stages are different from the mild forms to really difficult cases.
Healthy options
The offers on treatment varies a lot. In recent years there has been a widespread tendency to medicate. The use of psychotropic drugs is increasing. However, the problem or challenge is that these substances, regardless of name, are always associated with a number of different side effects.
Fortunately, much can be regulated and not least prevented by being aware of optimized diet. In particular, it is important to get some good fatty acids including omega 3. A variety of Bach remedies may also be a support. So everyone and everything is helpful. Likewise, different forms of psychotherapy would also be a great help for anyone struggling.
Nirvana dietary supplement

Now, however, there is light in addition to the fact that the clinical trials that LifeWave has made holds water. (And they have always done – so that's obviously the case here too).
So what would you say if you could in a completely harmless way get a helping hand to boost the "chemistry" that our "mood" is based on. Most people would say – "bring it on"…. And that's what I'm doing.
Nirvana from LifeWave is a combination system consisting of a dietary supplement consisting of a compressed pill based on a tang extract.
The pillars are taken twice a day typical of the morning meal, but they can be divided into one morning and one at noon.
Nirvana patches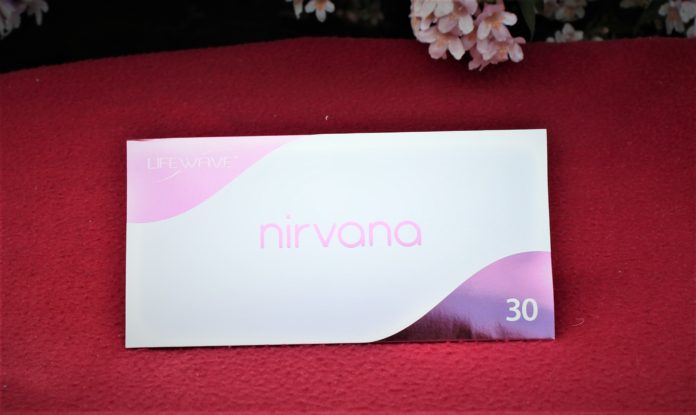 The Nirvana combination system also includes a patch, like all the others we know from LifeWave in advance. It creates an exciting collaboration between the biochemical part that we receive via the dietary supplement and the patch, which is designed to be worn at night. Typically, you put it on when you go to dinner or before going to bed.
What does the Nirvana system do?
Very briefly, you could say it's a double-acting mood enhancer. This occurs by natural release or production of endorphins. These are substances that create a natural sense of happiness, joy or enthusiasm, even the strong euphoric feelings we can experience in connection with sex. The patch itself helps keep "the level of the biochemical party" on something that looks like full screw.
Back to the endorphins. These are, as previously written, substances that the body (nervous system) itself produces under different circumstances. Lets say you were injured in a tragic traffic accident. Then these substances are triggered because they are simultaneously highly pain-relieving. In fact, they are somewhere between 18 to 33 percent more pain-relieving than morphine, as we know it from the doctor.
In addition to the pain-relieving effect, it, as previously written, also affects the mood. Unfortunately, the endorphins are very volatile substances, which have a short life span, but that's where Nirvana does something, no other product has previously been possible.
The Nirvana system is patented. It has been developed for a stabilization process that results in sustained results.
Excitingly, LifeWave has for the first time combined the patented patch technology with a natural dietary supplement to achieve a double-acting solution without comparison to something previously created.
The Nirvana grant and the Nirvana patch cooperate in synergy to create a long-lasting sense of joy and well-being without side effects.
At the time of writing, this grant is "available" only to current LifeWave distributors. Therefore, it can not be purchased by "regular" customers.
Prelaunch with a discount on Nirvana
As a distributor, we have access to a super good offer with $40 savings until July 30! As long as stock is available, LifeWave writes. The price will usually be $139.95, but can be bought at $99, which includes some shipping and tax. My package thus cost $145.70, which translated into Danish kroner is a small amount.
Originally, Nirvana should have been introduced to the market on September 23, 2017 in connection with the forthcoming LifeWave Event at the Tivoli Convention Center. However, some executives inspired LifeWave to do some sort of pre-launch, which occurred on June 6th in connection with a webinar. If you have been curious and want to try this wonderful drug, please contact me.
Follow me on Facebook, where I go live every Monday and talk about exciting things. Occasionally, I'll speak about LifeWave products, but I also speak about personal development. My previous videos can be found under my profile.